Welcome to RockNStyle V Jewelry
Looking for elegant, unique and beautiful fashion jewelries? You have come to the right place! Born out of a dream, RockNStyle V Jewelry specializes in Kumihimo necklaces. Each necklace is meticulously designed, made with utmost care using only quality products, and complement a wide variety of attire from weekend casual clothes to dressy outfits in a wide range of colors. Please take a few minutes and browse through our collection of necklaces.
Flyers down below, check them out :)
These are flyers of our upcoming events.
The Artazan Handcraft Market
Join us at The Artazan Handcraft Market at the Pasadena Convention Center.
More Info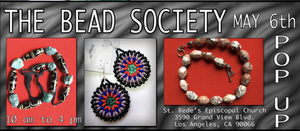 The Bead Society Mother's Day Pop-Up ShowBead Bazaar
Santa Monica Bead & Design Show
Join us at the Santa Monica Bead & Design Show - Fairmont Miramar Hotel April 14 - 16.
More info
Bead Society of Orange County Art of Adroning
Follow us to the Bead Society of Orange county Art of Adorning
More Info